THE TRUTH - JUSTICE - LOVE
Dominhtuyen
Collective protests, concentrated land claims again, do not know for how long the miserable people of Vietnam truly ending the dates each subject waited in despair, and just really see the light of Sun of justice?. Communist Party and State governments Vietnam was extremely cruel for decades has ignored the legitimate aspirations of the people, besides, they performance of many deceptive tactics and violent behavior, unconscionable, immoral for people going through the months of suffering on the path to ask back justice, which includes several members of the Communist Party of Vietnam, invalids, sick soldiers, who had ever sacrificed a part of body for so-called "liberation poverty and pagan slavery of the people of Vietnam brethren who has being suffered under the regime of Vietnam Republic of South Vietnam ".
After listening to the sweet demagogic words of the Party and the Communist government of Vietnam, after the dedication of all youth time for the southern war of aggression, and especially because of the aforementioned injustice-war means that have lost body parts or even to sacrifice precious own life, and today, they are recognized by the State Party and the thanks and repay them by painful like this. They were so, is the ordinary people are treated worse to some extent?. Also because right the dirty mechanism and dubious nature of the Vietnamese communist regime which was moulded by the leaders of the Party and Communist government of Vietnam that a series of irrational resolutions and laws than inadequate as the current land laws have pushed people to go to the end of the hardships, to the bottom of society, no house, no place to live, no career, no job and their children suddently to become uneducated ignorant, to live in idleness when entire of their land, property and houses were plundered government that are not allowed to complain that are not allowed to appeal and the most heartbreaking is continuing to be abused and driven away by government while they are living in the days of wander living for seeking justice hopelessly
Tragic fate and painful situation of the poor people, really is a bell to wake everyone, to wake social and even struck the compassion of the International Community as recommended launched recently by representatives of the World Bank and the United Nations development program (UNDP) in Vietnam urged the Vietnamese communist authorities revised land law for sustainable development before the sign that corruption increases from the government, and mass collective claim action of the people related to the current land sector. Besides, lack of conscience behavior and immoral of organizations including government departments as: the police, the military, the People's Committee at all levels of the central and local levels, the Justice Committee , Natural Resources and Environment Committee ..... and other relevant sector unions have directly or indirectly become a tool to help increase corruption, and contributed in pushing people away to tragic poignancy today, through persecution, forcible land full of wrong, violence and have no human nature as happened in Hai Phong Tien Lang, Van Giang Hung Yen and Nam Dinh Ban in the past.
News
Protest and collective action in Hanoi against land confiscation
Land, causing many lawsuit in Vietnam (REUTERS)
Th
ụ
y My
In Hanoi, since these days many wounded soldiers from Ha Tinh protested at the headquarters the reception of Central Party, and oppose the government seized land. Besides today 6/11/2012 there are protests by farmers Van Giang before Fatherland Front headquarters, and many people from the provincial land claims also focus on Hanoi to scream for justice.
Reply RFI Vietnamese language through telephone from far distance, Nguyen Ngoc Tien, wounded soldier working for the enterprise 27/7 Ha Tinh said reasons to go demonstrators:
Nguyen Ngoc Tien - Ha Tinh
06/11/2012
by Thuy My
Ông Nguyễn Ngọc Tiến - Hà Tĩnh
06/11/2012
by Thụy My
Nguyen Ngoc Tien: Opposition is because the government Ha Tinh had appropriated land of enterprise wounded soldiers 27/7 Thach Ha Ha Tinh province. Lasted 20 years, from the provincial and national level, government inspectors are push, cover for each other, do not settle for enterprises wounded soldier, arrested brothers who complain from year to year. Inside the State Inspector General with the Commission's Committee of Ha Tinh province with Thach Ha district, three levels of cover for each other to land grabbers, so pressing wounded brothers to go protest.
In enterprise wounded solder has 15 families, land line 1A in 1993 was Ha Tinh authorities paved the way, forced to withdraw, destroying homes and property without compensation to the people. Then on 26/9 happened coercive land, to mobilize thousands of police and provincial force to usurp the land of the people, the beating of wounded soldiers. In our province of Ha Tinh, how many years occupied the land of the people, just use the police force threat, which is normal.
In 1999 when we protest in the National Assembly, Mr. Nong Duc Manh, then as president of the National Assembly, invited Mr. Chairman Vu Mao to the reception office. But it also does not solve anything because Mr. Mao continue to make documents which fraudulent People .
In so urgent that made our soldier wounded brothers must be here to protest that incident. Currently our wounded soldier factories forty who are still in the people received point at No- 1st Ngo Thoi Nham, to ask the president of the province of Ha Tinh Vo Kim Cu, together with government departments Ha Tinh directly dialog with all brothers in enterprises, under the supervision of the Inspector General Government.
Mr. Le Dang Viem, wounded soldier grade 3/4 in the same enterprises also expressed feeling:
Le Dang Viem - Ha Tinh
06/11/2012
by Thuy My
Ông Lê Đăng Viêm - Hà Tĩnh
06/11/2012
by Thụy My
Le Dang Inflammation: I stay in factory 27/7, struggled for twenty years. Before, shall also be granted some land to brothers aquaculture, to export, to improve the lives of wounded brothers, poverty reduction. But Tinh Ha Tinh since having the Thach Khe iron mine, although do not have revoke orders, but coercive and clean rob interests of brothers.
Urgent then brothers have to move to ask from district to province, from province to central. But the cover from the central, today has not been resolved. Ha Tinh province to take all forms, from political to economic to wounded brothers tamponade, the central forbidden to go out.
Brothers out here to claim benefits and state requirements under Resolution 4 of the Party Central Committee. Currently the Secretary General also said that no small number of cadres and Party members were morally degenerate recession, lifestyle. People's desire to purge them of corruption.
Brothers of wounded soldiers require dialogue Ha Tinh province, but provincial has never met us. Twenty years, no one is a resolution. Top to bottom, bottom dump on, and now know to call whom?
Vo Kim Cu assign responsibilities to his deputy permanent chairman of Ha Tinh Tran Minh Tri, he was blatant repression, providing a very strong police force. Wounded soldier brothers, only a few dozen people, but take the police to crackdown mercilessly.
Province to take back the land to factory clearance, relocation of Thuy Khe iron mine. But then the property on the land without compensation. Mr. Tran Minh Tri promulgated the 897 decision to dissolve the entire wounded soldier brothers. Brothers require dialogue, but without dialogue.
Total output of the entire property including material and aquaculture - because land is the current production and factory testing of all 75 billion. Province not pay a dime! brothers do not get a penny. Provincial decision like that is to rob, but also do not have the revoke orders, not directly with brother to resolve this discussion.
A political system from provincial to district and from district to commune, to villages are suppressed. But we are determined to make the brothers to justice. This is also pressing forward organs of the Party Central Committee resolved soon as prescribed by law.
Dang Van Tam, in the group 82 people from commune Lam Sen, Cam My District of Dong Nai Province has to Hanoi yesterday, said only wanted to be compensated in accordance with the law. He denounced the authoritarian, arbitrary will of the local government, and to express the suffering of the petitioners to travel to the central for claims:
Dang Van Tam Dong Nai
06/11/2012
by Thuy My
Listen (2:17)
Ông Đặng Văn Tâm - Đồng Nai
06/11/2012
by Thụy My
Dang Van Tam: Since 2008 the government has issued a recall of land to build reservoirs River Ray for two province Ba Ria-Vung Tau and Dong Nai. But in the process of compensation, the provisions of Dong Nai Province is one square meter of land the position was 50 thousands, but paid only 25 thousands. And trees is to apply a tree A, tree B is B, arbitrary. Into cash eg 100 million, while the bank to receive the money, which just be paid out to 90 million. Extracted just like that, people get money or not is up to them. Then charge infrastructure is twenties, nearly three dozen billion, that is extracted straight. Then all the land recovery decision is not assigned and absolutely have no administrative decision, in which two hundred of households.
Go complain to now some four years before, from districts to provinces around fifty times, and more central, ie 3 Government Inspection Department in the South, located in Ho Ngoc Lam Binh Tan district now , Ho Chi Minh City. Up on it five times, and promises, as well as a lot of times but just saying that is investigating to clarify, are best. But those four years and also not go far, not solve anything.
Come No. 1 inspectors Hanoi Ngo Thoi Nham, in which they not welcome. Night sleep, they do not allow to sleep inside, sleeping on the street, midnight chase to catch back again very hard.
In particular, this is 82 HH Lam Sen, of Song Ray Cam My, that is old Xuan Loc, Dong Nai province. Monday morning ie yesterday morning we have been in number one Ngo Thoi Nham, but they just said to his boss set up inspection teams to inspect the province and then reply.
The promise of this is from a long time ago, all he promised to man promised "try, aggressively fast, considering ..." but now some four years and no consideration at all, just an appointment . All appointments. Nearly two thousand kilometers, dining fare with more than a million per times. In it goes out very hard, very expensive. Evening some old women can not sleep anymore, rent a place to sleep must pay for fourty, fifty thousands a night, that sleeping in the street is to be chased. This morning the National Assembly, the police chase bucket and an old woman was unconscious.
RFI Vietnamese language would like to thank Mr. Nguyen Ngoc Tien and Le Dang Viem, wounded soldier who working for the enterprise 27/7 in Ha Tinh Province, and Dang Van Tam in Dong Nai please take the time to program today .
TAGS: protest - DEMOCRACY - VIETNAM - LAND
News
News
/
Việt Nam
World Bank recommendations Vietnam revised land law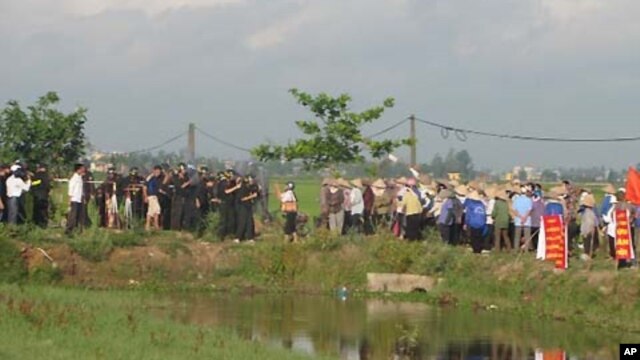 Research by the World Bank to provide ideas about key institutional reforms to improve land administration system of Vietnam, reduce uncertainties related to land disputes
On 5/11, The World Bank in Vietnam has announced policy recommendations "Amend the Land Law to promote sustainable development in Vietnam" on the threshold of the sessions of the National Assembly for change Land Law, focuses on the reforms needed to address the current gaps and deficiencies.
Victoria Kwakwa, Country Director of World Bank in Vietnam, said: "It is important to amend the Law on Land should create a more favorable environment for effective land management, fair and more sustainable environment for scarce land resources. "
Contacts
.
U.S. criticized the decision to build the Xayaburi dam in Laos, Vietnam has not voiced yet
.
U.S. officials to discuss adoption issues in Việt Nam
.
Russia to strengthen military cooperation with Vietnam
.
U.S. review of the use of the site Zing in Vietnam
.
EU urged Vietnam to promote human rights reforms
A number of development partners, including the United Nations in Viet Nam is preparing a policy recommendation with similar messages.
Ms. Pratibha Mehta, National Coordinator of the United Nations in Vietnam, said that equal treatment between land use objects is very important for equitable growth and human development in Vietnam.
Issues related to land continued to account for the overwhelming number of complaints that the government received, and corruption related to land issues are considered widespread.
World Bank studies provide ideas about key institutional reforms to improve land administration system of Vietnam, to reduce uncertainties related to land disputes, and good control of corruption more.
The study sets out reforms related to four main themes: agricultural land use, transparency and fairness in the land acquisition and compensation, land use rights of vulnerable groups, and management land planning.
Research shows that an effective and transparent mechanism to determine compensation when land is recovered by the State is a top priority.
Source: World Bank, VNA
>>>
Click here to view page in Vietnamese
>>>
Click here to view bilingual page