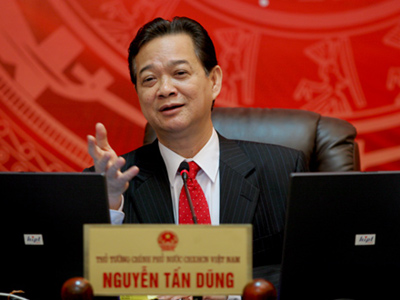 Prime Minister Nguyen Tan Dung
posted to answer questions now before Congress on 25.11.2011
THE TRUTH - JUSTICE - LOVE
Dominhtuyen
The people were arrested by Government only because participating football teams out of no U Saigon. Play through the show seems to be a joke and that's absurd but true hundred percent. 8 people after attending the launch of the football team of no U Saigon has arrested by police Ben Nghe Ward, District 1 Ho Chi Minh City and still did not know the reason why they had arrested for anything. Currently many countries in the world outside the Freedom and Democracy in Britain, France, Germany, the United States ...... a democracy which they have long tended to improve political institutions of their country by way of search and access to social and Liberal Democrats. Especially after the uprising called "Orange Revolution" and "Jasmine Revolution" in some countries of the Middle East and North Africa such as Tunisia, Libya, Yemen .....
No one can believe that even in Vietnam, a country that is often self-claims before the International community that Vietnam is a socialist country fair, civilized and Democracy has the citizen been arbitrarily arrested, but released after his arrest are still unknown reason and absolutely no explanation from the authorities.
The widespread arrests and detention of illegal Communist authorities today and in recent years have demonstrated to the people living in Vietnam and abroad as well as for the international community that: Vietnam today is a country ruled by people's dictatorship, the party and inhuman treatment. The people have freedom trampled seriously while people have no faith in government and the international community is always in the eye Vietnam doubts and suspicions. Statement and a commitment of heads of state, his Prime Minister Nguyen Tan Dung also said the action has not drain very very legitimacy of their outline has completely denied and proves otherwise good things that he Prime Minister recently committed to Parliament, before the people of the country.
The concept "Patriotic" between Vietnam and the National Democratic world is very different. While all people are living on the National Liberal notion that any action brought practical benefits to the people, to society and the country is called the patriotic action in Vietnam if action to bring practical benefits to the people, to society and the homeland, but goes against the policy guidelines of the party and government or prejudicial to the interests of individuals, groups and families leaders of the party and the state is still considered the action a 'reactionary' should be removed from a society which act mercilessly persecuted and detained eight members of patriotic participation in the eyes of the football team no U Sai Gon last 27-11-2011 and the arrest of dozens of people on Sunday morning 28-11-2011 when they took to the streets to show their support for word The Prime Minister's statement to Parliament should draft a law on demonstrations.
Newsletter
Text Only | Help | Contact Home Page
Vietnamese> Current Affairs
Caught by police for wearing No U?
Vietnam Ha, RFA reporter
2011-11-28
After several hours in custody for unknown reasons, six participants in a friendly soccer match of the football team No U Saigon was released. However, there are still two more people, including Ms. Bui Hang not have any information.
Courtesy Danlambao
Members participate in the launch team No U shooting
in Saigon Notre Dame Cathedral before being arrested
on Sunday, November 27, 2011.
Getting people for no reason
On the afternoon of Sunday, November 27, police and civil defense in Ho Chi Minh City have arrested eight people involved football teams out of Saigon No U.
These people were later taken to the police station, Ben Nghe Ward, District 1. Until about 2 hours 30 minutes morning November 28, six people have been released. A young man requested anonymity, has been arrested and released on November 28 morning to verify the information:
Not only us, but around it, where Notre Dame has many young people, travelers, people traveling abroad without understanding why they had us check em proof.
No U SG Members
"I was invited to the police, Ben Nghe ward from 3 pm. Someone was before me, but I have people on the ride home about 2 hours to 2 ½ hours of the morning. "
After the football game released on November 27 morning, afternoon, a group of people in a cafe near Notre Dame Cathedral for a drink and talk to the civil defense and police are asking for papers and was invited the police station. The young man said:
"There were so many people, not just us children, but around it, where Notre Dame has many young people, travelers, people traveling abroad without understanding why they check identification us children. First they told me to stand in one place four. They said he invited the children of this has to be solved. Then they separated us in every place to ask. "
Police did not give any reason for the arrest of any person. The young man told police he had been questioned for a long time about things not related to violations of the law and now he did not know the reason why He was arrested.
8 people join soccer team out of Saigon No U
was taken to the police station, Ben Nghe
Ward - District 1 pm on Sunday, November 27, 2011.
Courtesy Danlambao.
"They asked a lot of things I do not have to do ... First they asked for proof, personal and they keep us very long. I think asking people to prove themselves or not too important. If you us a clear violation of law such as pick-pocketing something they caught us here is okay but I only drank water. "
Police also asked the people arrested have reported on what they do during the day.
This young man said he was treated roughly during the time in custody.
Among those arrested in Saigon, there are sisters and blogger Lee Nguyen and Bui Hang. Up to 12 midnight on November 28, friends and relatives have not received any information on her Hang Bui. There is information that blogger Lee Nguyen has been police escorted the ship back to Hanoi.
Patriotic is guilty?
Demonstrations in Hanoi Sunday morning 27-11-2011,
to support the Prime Minister Nguyen Tan Dung proposed
the National Assembly draft laws demonstrations,
has recently started up town police. Courtesy NXDblog.
The arrest of these people in Saigon took place immediately after the hand Hanoi police detained about 16 protesters peacefully on the banks of Hoan Kiem Lake. These people are street demonstrations in response to calls for support of proposed legislation before Congress protest of Prime Minister Nguyen Tan Dung.
During the past several months there were about 11 people's demonstrations in Hanoi and Saigon to protest the actions of the expansion on the East China Sea.
The government also came to suppress the protests, saying that 38 had violated the decree by the government gatherings. However, some bloggers in Vietnam said that the protests in Viet Nam have touched sensitive issues in bilateral relations.
Back to the story of those authorities in Ho Chi Minh City arrested on Sunday, the young participants U No team has been arrested, said those involved were wearing football matches can Sports wear is a clear signal chest-shaped road, protect the country. According to wear such a slogan is nothing wrong:
I think the first is not afraid of sports clothing with logo front, nothing violations of the law, do not adversely affect anyone else.
No U SG Members
"I think the first is not afraid of sports clothing with logo front, nothing violations of the law, do not adversely affect anyone else."
Participants outside the team without any purpose other than to physical exercise and speak their own tongue the way cows do not accept China's claim to 80% on the East Coast.
Also in the afternoon on Sunday, was held in Hanoi a friendly soccer match another team's No U Hanoi to Vinh club community in Hanoi.
The football team of the No U in the two regions is clearly not the protests, but the arrest of unknown cause people of Saigon U No team has made it back is not out of mind government's attitude to the usual patriotic person.
Copyright © 1998-2011 Radio Free Asia. All rights reserved.
Click here to view page in Vietnamese:
http://vn.360plus.yahoo.com/tuyen_1962/article?mid=1192