THE TRUTH - JUSTICE - LOVE
Dominhtuyen
Tragic case of Da Nang City Con Dau happened nearly two years ago when the government used a large police force who was equipped with guns, grenades, electric batons and whips to repress brutally to fellow parishioners in the Con Dau parish with the purpose of clearing the cemetery and moved hundreds of households are living on their ancestral land and to build back a hundred years ago. Many people had been in Vietnam's communist government is very brutal beating in which Mr. Nguyen Thanh Nam a layperson was arrested, tortured and beaten to death by the authorities. After that, many people Con Dau parish had to leave home to flee to Thailand together for asylum in order to preserve life and for fearing reprisals from the Communist government of Vietnam.
About in mid-March 2012, the parish of Con Dau heated up when hundreds of families remaining in the parish of Con Dau received the notice by the People's Committee Chairman Vo Van Thuong Cam Le district sign. In accordance with the notice on that is 15 days after receipt of the notice, the enforcement will be made by authorities. This makes these households, who resolutely cling on sacred land where they have lived for a hundred years be alarming. The parish of Con Dau clearance which had faced strong opposition where the people and received much criticism from domestic and foreign public opinion. But a new round of brutal repression will occur is difficult to avoid when the government is determined to perform with sinister intentions despite their lowly law and human morality.
Why is the clearance of households moving to implement new projects that said by the communist government of Vietnam is a practical work with good meant that always face at the against from the people? a very easy to understand but the Vietnamese communist government has not understood and ignored the legitimate aspirations of the people. It's the rights and legitimate interests of the people were not respected. The government regards only to privacy benefit from the project that is unnecessary and unreasonable even without knowing life how would be to people? just need things to be conducted smoothly and smoothly. There are many projects people have not yet received compensation payments of money, not be located to the new resettlement but the government still underway, homes still be destroyed that making them fall into the very difficult life circumstances. Not yet to mention to the inadequate compensation payments and job loss due to people so long accustomed to farming was really pushing people in the same way there is no escape route is the cause of much opposition from people and spread the land claims as at present.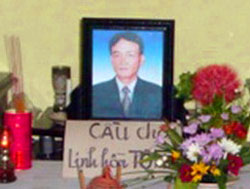 Simple altar of Nguyen Thanh Nam whom police beat to death.
We sent a letter to fellow in country share of Bishop Pierre Tran Thanh Chung former Kon Tum Diocese Bishop about Con Dau issues today.
The original Letter in Vietnamese: