THE TRUTH - JUSTICE - LOVE
Dominhtuyen
For the first time in Vietnam, relatives of a prominent blogger fighting to require Freedom and Democracy for Vietnam set herself on fire in front of government offices to protest wrongdoing and immorality of the communist authorities Vietnam. True to his discernment Phil Robertson, director of the Asia division at Human Rights Watch, this is not just a family tragedy but the tragedy of a country. In recent decades, the Vietnamese Communist government has ruled and the people running the country by the dictatorial, authoritarian inhuman. Especially since the uprising of the people in some Arab countries, Middle East and North Africa and overthrowing the dictatorial, authoritarian leadership, the Party and Vietnam's communist government felt bitter taste, restless sleep and then days and nights in fear of a similar revolution to the formation and explosive even in Vietnam.
Therefore, the Party leadership and dictatorial communist government of Vietnam has sought to respond by an increase in the violent crackdown aimed at dissenting voices in the country. Especially targeted at religious institutions which are believed to have extensive influence and close to all classes of people. Besides, the authorities also perform many other tricks to stifle freedom of speech of the people as the tight control of Internet use, management and strictly control the mass media as the media and press ... distorted information and distort the truth to slander people and religious representatives that aim to create the opportunity and legal reasons to make arrests to those who without or having different views with party and government despite violations of the law, public international law violated and trampled upon human moral conscience.
And suppression of human endurance has its limits and the burning herself to death throes of a blogger mother, who had been a party member, a police officer for many years under communism and is imprisoned for crime that dare made the legitimate and lawful freedom of speech without the permission of the State government as a warning bell for the Party leadership and the Vietnam's communist authorities. It is increasingly clear evidence of deepening discontent among people against the government and even resentment from people who have devoted time, work and community service for communist government before and today. Tragic death of blogger Ta Phong Tan's mother has caused millions of Vietnamese hearts to pity and poignancy. And this is the first blood lesson and finally to the Party leadership and the communist government of Vietnam. Please wake up soon before its too late, otherwise the course is not only against a person or a group that is the deal with millions of hearts Vietnam is simmering desire Democracy, Public Woodblock.
News
Tuesday, 31/07/2012
News / Vietnam
Mom blogger Ta Phong Tan died after self-immolation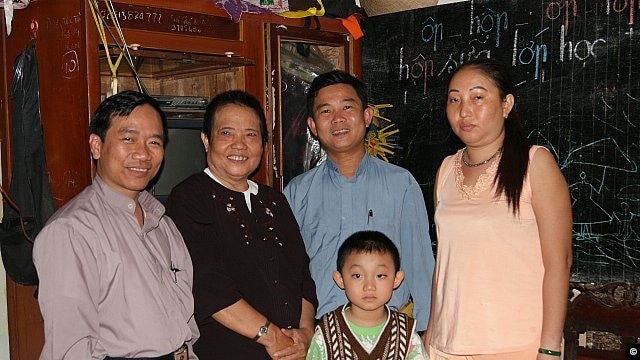 Ms. Dang Thi Kim Lieng (second from left) has died after self-immolation in front of Bac Lieu province (Photo: Danlambao)
Relatives of Ms. Dang Thi Kim Lieng, the mother of dissident blogger Ta Phong Tan, said she died after self-immolation at the city's administrative district of Bac Lieu.
Contact
.
GS Stanford University called the arrest investigation young activists
.
Reporters Without Borders: VN government behaving like hooligans with blogger
.

Investment and Human Rights : The main concern of the Secretary of State in VN
Before that, according to some bloggers Vietnam, Ms. Dang Thi Kim Lieng "gasoline used self immolation in front of Bac Lieu province, Phan Dinh Phung Street No. 4 Bac Lieu town. Security and police quickly blocked the scene and taken to emergency victims. "
Media Bulletin of the Savior said Monday morning, 30/7, commune police to tell her children Dang Thi Kim Lieng know that she is in hospital emergency Bac Lieu province.
Also in this newsletter, until noon, Mrs. Lieng was taken out of Hospital Bac Lieu province toward the city. Ho Chi Minh.
Her relatives said she had died in the car from the city of Bac Lieu. Ho Chi Minh.
Self-immolation occurred while blogger Ta Phong Tan was brought before court soon on charges of propaganda against the state, along with blogger Dieu Cay and Phan Van Hai.
Lawyer of Mrs. Tan, Nguyen Quoc Dat, the AFP news agency that he not talk to relatives in her family, but many sources say that her mother had set herself on fire frequency.
When asked about the self-immolation, said Phil Robertson, director of the Asia division at Human Rights Watch said that this is a tragedy but the bigger problem is the reason leading to this. He said that Vietnam government is bringing people into despair over the increasing human rights abuses. He added that this is not a tragedy for a family that is the tragedy of a country.
Blogger Ta Phong Tan is one of 17 characters dissident detained were cited in a recent petition from the Director of International Programs and Matching Law of the University of Stanford, was filed with the Commission Contact United Nations Investigations Arrests accidentally (UNWGAD).
In a petition dated 25/7, Professor Allen Weiner asked UNWGAD Commission urged Hanoi to release immediately all those detained to overcome human rights violations related to the arrest and arbitrary detention.
The petition sent the United Nations specialized agency of the state investigation arbitrarily detained 17 activists said this violated the right to proper legal process and fair trial rights which the world has taken protection in the International Covenant on Civil and Political Rights and in the documents of other international law.
Professor Weiner, 17 activists were arrested just because they participate in activities calling on the government of Vietnam must improve human rights and social justice, including the pressing environmental, health, law, politics, land, and corruption.
>>>
Click here to view page in Vietnamese
>>>
Click here to view billingual page