THE TRUTH - JUSTICE - LOVE
Dominhtuyen
Confirmed a judgement 12 years in prison plus five years of probation for Mr. Nguyen Van Hai Blogger Dieu Cay and 10 years in prison plus five years of probation for Ms. Ta Phong Tan former police officer in Vietnam and also the owner Truth and Justice Blog is no longer a stranger to the people of Vietnam and the International Community for the legal system and the judicial branch in Vietnam so long. Before the appellate court for the said Blogger is expected to bring to trial in the form publicly announced by the communist government of Vietnam, the Vietnamese people and the International Community has envisioned session How public would like and also anticipate the verdict pocket style that the Judge and the Judge Vietnam usually applied in the trial for political prisoners in Vietnam so long.
And the objective identified above has happened quite right with the previous forecast of people when in front of the court where the trial is said to be considered for treatment in the form of public police is filled with all kinds of and barbed wire, security fence dense Secret Service as soon as the trial opened has proven very clear and honest about the so-called "public trial" by calling of the government officials Communist Vietnam. Besides, the Vietnamese security harassed, threatened and seek to prevent relatives of Blogger and witnesses related to the case is to attend court despite they knew clearly that all of them before which has received the summons to attend the Court from the Court. In addition to the above dirty behavior of the Vietnamese secret security, then Judiciary Vietnam is also in completely helpless situation when not operating independently under the regulations and policies in the political machinations today.
In general, once the Communist Party and the State government Vietnam still sitting on the law and the State Constitution, the Truth and Justice will never have the opportunity to be respected and reigneth in Vietnam and the trial with full of injustice and be heard with judgement pocket case as trial Blogger dissidents today and in the trial for political prisoners was previously quite difficult to avoid from. Human Rights in Vietnam continue to be trampled harshly uncompromising and it is a pity. All of effort and try to help fix, modify and help change the country in a better direction from the people and the International Community did not seem to be the Party and the communist government of Vietnam welcome and accept . If the state without law, without outline, immoral and irresponsible from the leaders of the Party and the Vietnamese communist state government continues to exist, the future and destiny of the country of Vietnam will continue to be darkness covered, especially in the current period, Vietnam has faced with both corruption raging and just face of brazen aggression and malice invasion of the Chinese communist government.
News
Court of Appeal y heavy sentence for blogger: Judgment unacceptable!
Posted by at
10:11 Sáng 29/12/12
VRNs
(29.12.2012)
–
Reporters Without Borders - Posted 28/12/2012 - Reporters Without Borders condemns the decision that the judge has declared today to three blogger Nguyen Van Hai (also known as Dieu Cay) , Ta Phong Tan and Phan Thanh Hai (also called Anhbasaigon) - and yesterday in the case of Nguyen Van Khuong, investigative journalists, known as Hoang Khuong.
The organization also condemned the arrests yesterday blogger, activist Le Quoc Quan and calling for his release immediately.
"Dieu Cay, Ta Phong Tan and Anhbasaigon did not do anything to live up to these judgments," Reporters Without Borders said. "By asserting the long-term prison sentence for blogger, Vietnamese authorities are showing their contempt for basic freedoms, especially freedom of speech."
"We are very worried about the outcome of the hearing on 01.08.2013 of 9 young Catholic blogger, including Paulus Le Son and the arrest yesterday blogger, human rights activist Le Quoc Military ".
"We call on the European Union, the winner of the Nobel Peace Prize this year, putting pressure on the Vietnamese government to stop persecuting non-stop for those who dissent in general and provide information ie in particular. "
Heavy sentence was kept in an appellate hearing today for two of the three bloggers that they were sentenced on September 24. Dieu Cay activist and former police officer Ta Phong Tan still stick to respectively 12 and 10 years in prison, plus five years of house arrest.
Blogger Anhbasaigon, the only one who pleaded guilty, was reduced from 4 years in prison to 3, with 3 arrest.
During detention, the blogger facing many arduous. Dieu Cay was allowed to see his son, Nguyen Tri Dung, under strictly monitored, meeting in just a few minutes on 07 January 11, he complained of being held in the AB of Chi Hoa Prison, where often for those who were sentenced to death.
Ta Phong Tan, author of the blog "Justice and Truth", has paid a particularly high price for her consistency. Her mother has destroyed the lives of himself at the end of July by burning himself on fire outside the headquarters of the People's Committee of Bac Lieu.
Wife Anhbasaigon, Nguyen Thi Lien, told Reporters Without Borders in a phone call that her husband was frequent headaches, insomnia, high blood pressure, and that he was completely devastated by heavy sentences masonry.
An appeal court yesterday upheld a four-year prison sentence for Hoang Khuong, the Tuoi Tre newspaper reporter, he arranged for a police officer taking bribes in the course of the investigation report corruption . Detained since January, Hoang Khuong report cases of corruption.
"What Khuong has to do is to get indisputable evidence of police corruption in Vietnam, he was reported in the article, and can not be regarded as deliberate corruption," Reporters Without Borders said. "We urge the judicial system to reverse the dismissal of the appeal of Hoang Khuong and drop him on the basis that the work that he does is for the common good".
Charges of "corruption" and " Tax fraud" are often carried out against the journalists and bloggers Vietnam. That's allegations of fraud have been used to arrest bloggers Le Quoc Quan, and in 2008 as Dieu Cay.
Some bloggers have been arrested in an appellate hearing today and her sister Tan, Ta Minh Tu, was not allowed in court.
Vietnam has long been the Reporters Without Borders listed as "Enemies of the Internet" and now the world's third-largest prison for bloggers and dissidents online, only after China Korea and Iran.
Organization Journalists Without Borders
News
Blogger Nguyen Hoang Vi told about police arrests and physical examination
Blogger Nguyen Hoang Vi DR
Thanh Phương
Among the detained blogger today 28/12/2012 while trying to attend appellate hearings three members of the Free Journalists Club, there's Ms. Nguyen Hoang Vi. Not just was beaten, she, Hoang Vi was stripped by security,and physical examination very brutal. In an interview with RFI tonight after being released, Nguyen Hoang Vi said:
News
News / Vietnam
P / V Blogger Uyen Vu about Dieu Cay trial, Ta Phong Tan, AnhbaSG
Trà Mi-VOA
12/28/2012
Blogger Uyen Vu, the official court summons to a witness in
the appeal blogger Dieu Cay, Ta Phong Tan, and AnhbaSG
, for VOA interview about how he was pressured by police, prevented to the hearing on 12/28.
Blogger Uyen Vu: There are about eight plainclothes security personnel sitting available at the top of the lane. When I was out, they started to hit. A police colonel says now if I want to go, they will carry. I do not agree because I know that if get on the car, make sure they will be transported to the police station. I have sat with them for a while, but finally could not walk.
VOA:
When you challenge the security forces, did you ask why you got summons of the court to that you were not allowed to have the freedom to travel to get to court?
Blogger Uyen Vu:
I have raised and they replied: 'We do not need to know'.
VOA:
Do you ask what they are doing to the order of one particular text and how?
Blogger Uyen Vu
: I have to ask. They said: 'He knows us because we've been working with him for over 5 years now.'
VOA:
their answer, you know?
Blogger Uyen Vu:
It is a violation of the law so blatantly as to prevent a witness to court.
VOA:
If you are present in court today, he say anything?
Blogger Uyen Vu:
In the role of a witness, I have limited access to speak independently. But I said that I only speak the truth and bear witness to the truth.
VOA:
I can say I do not think I will have the opportunity to be 'said independent'. With a witness in court, this is one of the essential conditions. Why do not you believe it will happen in case he was in the courtroom today?
Blogger Uyen Vu:
Through all the political trial that I have observed, I see the role of a witness in the trial of that case were available like this are very faint.
VOA:
Do you feel how the results of Appeal for three bloggers today, minded to me and is also a member of the Free Journalists Club which you joined?
Blogger Uyen Vu:
Grief. For all the ways in which my friends and those who are engaged increasingly blocked. They intentionally strangled voice. What we've done all the things to do of every citizen. We are nothing more than people who have the information and began speaking. It is plausible path for us to follow. We and many others will not falter.
VOA:
Thank you Uyen Vu blogger.
P / V Nguyen Tri Dung, son of blogger Dieu Cay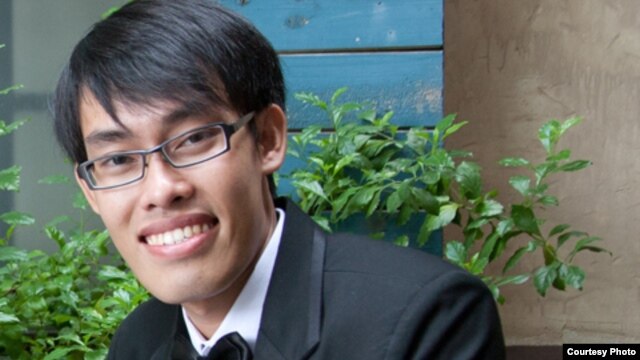 Nguyen Tri Dung, the son of blogger Dieu Cay
Trà Mi-VOA
12/28/2012
After the appeal on 28/12, two well-known blogger Dieu Cay and Ta Phong Tan was kept to respectively 12 and 10 years in prison. Although the trial was described as state public but relatives of the accused were not allowed to attend. Son blogger Dieu Cay, Nguyen Tri Dung, recounts he was assaulted and arrested his father on the day of appeal held:
Contact
.

Blogger Dieu Cay and Ta Phong Tan stick to plan
.

Dieu Cay's lawyers urged the appellate court to consider objectively indictment
.

Dissident lawyer Le Quoc Quan was arrested
.

Canadian MPs for intervention activist Tran Thi Thuy
Nguyen Tri Dung: I just stepped out of the gate, three people standing on the third floor howling down more than 20 below, they closed the door of the apartment to the police car was parked inside the apartment caught me right in port.
VOA:
They lay a hand on right not explain why he has the right to freedom of movement, not on the criminals?
Nguyen Tri Dung:
They do deaf people, do not listen to reason and do not need any reason at all. Times before the preliminary hearing, they have put even silly reasons like: 'Why wear black? Up wards solved! 'But today they do not give any reason. They rushed in immediately. Mother feared they beat me, so my mom jumped on. They use it to children to whom they beat. They are very large so you can not ... just ten minutes after they put me in the car.
VOA:
As it happened brawl?
Nguyen Tri Dung:
clashes occurred.
VOA:
Where did they take you and keep you for how long?
Nguyen Tri Dung:
They run in Ward 6, District 3. They keep me in one of the rooms that keep me on the day of First Instance (treatment blogger Dieu Cay). They keep me from 7:30 am until after the appeal termination just release.
VOA:
During their stay and work with you, they have raised the problem?
Nguyen Tri Dung:
They did not need to do anything. Them to put the paper in front told me to report what had happened. I asked them to report anything while you are who arrested them up here without knowing why. Do they respond as they do something new caught. They said now I was beaten or have any questions let write into paper. I replied that I did not do any papers because here I do not hear why I was arrested. They left out. Tran Song Nam in person twice to ask me to make records. After that, they let me stay with 2 people sitting room looks me over from time to time I go. I asked why continuous, but they did not answer. They do not listen and do not answer anything at all. Interesting more of them because took civil defense and police precinct car to catch me, but when the police precinct station, they told that they did not know. That's the way before they are used to avoid responsibility answer why arrested.
Now I really disappointment. Although the verdict was not unexpected, but really I'm still hoping that there will be something that will change even in the judgment but not in the way they treat people. Previously, they ride them on the street they also give reasons as you drive carelessly, or if they catch me then the excuse that I wear black T-shirt. Now, they do not justify anything. Although not expecting much but the legal order, I and mother and the friends help will continue to appeal to Cassation or higher.
VOA:
In case of blogger Dieu Cay world attention, the President and the Secretary of State, United Nations, European Union mentioned, a very prominent case. Before the voice and what in reality is happening and how to cope in Vietnam, do you feel international pressure have any impact?
Nguyen Tri Dung:
I think their fears for international versus fear for people to expose their face. So, they have to decide or choose to keep their face or the true line to please the world. International pressure on the Vietnamese government, I see absolutely no impact whatsoever. Myself and my mother very happy, very happy to see such attention to my father. But for the authorities, they even treated me and my family more and worse and more obvious, suggesting that they just do not learn from experience that take wrong to fix mistakes has tripped. They increasingly raise messed it up.
VOA:
Thank you for taking us this interview.
.
>>>
Click here to view page in Vietnamese - Click vào xem trang tiếng Việt
>>>
Click here to view bilingual page - Click vào xem trang song ngữ