THE TRUTH - JUSTICE - LOVE
Dominhtuyen
International today is increasingly more attention to the violations of freedom of speech rights in Vietnam but the focus is hearing three famous bloggers in time to include blogger Ta Phong Tan, club members Journalists' Freedom of Assembly, the daughter of Mrs. Dang Thi Kim Lieng people set themselves on fire just before administrative agencies Bac Lieu province to protest the attitudes and immoral acts of the communist government of Vietnam and died on 30 July, along with two other members of the club co-founder Liberal Journalists Association, Mr. Nguyen Van Hai blogger "Dieu Cay" and Mr. Phan Thanh Hai blogger "Anh Ba Saigon."
True to her statement Ms. Ravina Shamdasani, spokesman for the Office of the High Commissioner for Human Rights United Nations (OHCHR) when express their views to reporters in Geneva that "we are concerned seems that free space for free expression increasingly restricted in Vietnam. " Well, the right to freedom of expression in Vietnam, not only the narrow, limited as her statement Ravina Shamdasani, but also more serious in recent times after Vietnam's communist government propose a new resolution in June last to strictly control all activities of the network and Internet services that require those who using Internet services to use their real names and declare the said decree also requires the company provide social networking services foreigners as Facebook, Google must put the server or to have representative offices and legal status in Vietnam.
Although to know that action to control, manage and prevent Internet, newspapers, social networking sites and personal sites are serious violations of freedom of speech rights of people and go against the commitments International human rights, and the Civil and Political Rights, which Vietnam has signed and participation but leadership of the Party and the Communist government of Vietnam still has ignored and increasingly brazen show more and more. Especially since the uprising of the people to stand up to overthrow the dictatorship in some countries of the Middle East and North Africa was named "Arab Spring Revolution", the group leaders Ba Dinh Hanoi become more and more anxious before far-sighted that occur a similar revolution in Vietnam. Thus the focus that Vietnam's communist government needs to be done now is to remove it immediately and at any cost for any differences of opinion with the government or take anti-Party, anti- mode ....
News
UN advocate Dieu Cay and bloggers
Office of the UN human rights day 3/8 expressed concern about the news bloggers and internet users are forbidden to express their views freely in Vietnam.
Ms. Ravina Shamdasani, spokesman for the Office of the High Commissioner for Human Rights (OHCHR), expressed his views to reporters in Geneva.
Ms. Ravina Shamdasani concern for space
freedom of expression is limited in Vietnam
"We are concerned not seem long to free expression increasingly restricted in Vietnam."
Specific offices discussed the upcoming trial with three pens, Nguyen Van Hai (Dieu Cay), Phan Thanh Hai and Ta Phong Tan.
OHCHR statement said the trial "concerning their legal rights enforcement of freedom of expression, including online articles on social issues and human rights."
"The trial, expected date of 7/8 and has been delayed indefinitely, hearing closed court and witnesses will not be summoned, causing fears the process would not guarantee equal treatment principle," OHCHR statement.
Shamdasani She continued: "Some arrests and strongly condemns the recent years shows worrying trend of restricting freedom of expression, opinion and gathering of bloggers, journalists, activists human rights activists who question government policy in the way of peace. "
The trial was delayed after her mother died
Ta Phong Tan
Court in Ho Chi Minh City has continued to postpone the trial of three members of the Club of Free Journalists of the self-immolation followed by Mrs. Dang Thi Kim Lieng, the mother of blogger Ta Phong Tan.
Mr. Nguyen Thanh Luong, who legal represents for Ms. Tan, told the BBC he had written proposal to change the date the trial court after her mother's self-immolation and died.
But Doan Thai Duyen Hai lawyer, who represents for blogger Anh Ba Saigon, said he only asked for additional investigation, not a proposal to postpone the trial.
Despite writing about the delay of said hearing shall occur due to this proposal of the two lawyers.
The three bloggers are accused guilty of propaganda against the socialist state and will be judged based on paragraph 2 of Article 88 of the Penal Code.
Related articles
Postponement of treatment three dissident blogger
Dieu Cay's son tell story visit his father
The trial of bloggers: two "not guilty'
Related topics
News
Monday, 06/08/2012
News / Vietnam
UN concerned about human rights in Vietnam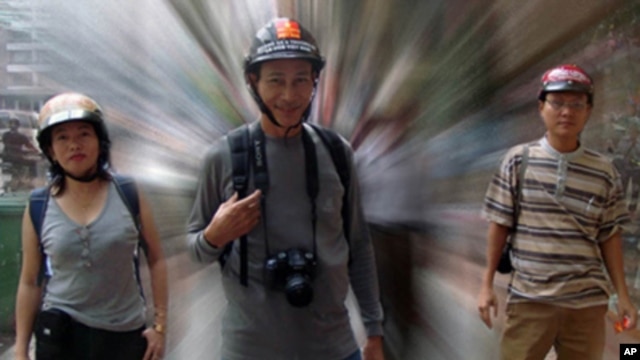 Blogger Ta Phong Tan, Dieu Cay and Phan Thanh Hai
On 3/8, High Commissioner for Human Rights United Nations in Geneva voiced concern about the situation Vietnam government increasingly limits the freedom of expression of citizens.
In speaking on the website of High Commission, the agency said that the information they collected show that oppression bloggers and internet users or other tools to express their opinions in Vietnam is increasingly growing.
High Commissioner for Human Rights United Nations Special concerns before the hearing for three upcoming covers blogger Dieu Cay, Ta Phong Tan, and Anh Ba Saigon.
High Commission said three bloggers were charged with "propaganda against the state 'just because they were exercising legitimate free speech through the articles expressing social issues and human rights in the personal blog.
Still under the High Commissioner for Human Rights United Nations, the arrests and harassment in recent times for Hanoi's human rights activists, journalists, and bloggers shows a trend of human rights violations concern in Vietnam.
High Commissioner urged the authorities to Vietnam to fully implement the international commitments to ensure fair trials and quick review of the release of people arrested for behaving the right of free speech, free by the expression, and freedom of association.
Contact
.
Three futher hearings bloggers is suspended after her mother's
blogger Tạ Phong Tần
self-immolation
.
International expressed concern about self-immolation of the mother's blogger Tạ Phong Tần
.
Việt Nam to investigate the self-immolation of the mother's blogger Tạ Phong Tần