THE TRUTH - JUSTICE - LOVE
Dominhtuyen
Continued international attention to the self-immolation led to the tragic death of Ms. Dang Thi Kim Lieng mother of Democratic dissident, bloggers Ta Phong Tan and expressed deep concern before the human rights situation worse in Vietnam today. The U.S. government has strong condemned of Vietnam's communist government for so long has always invoked the so-called "national security" to apply the vague about the criminal laws of this country as : Article 79 (conspiracy to overthrow the government), or Article 258 (abuse Liberal Democrats have the right to infringe upon the interests of the State) and Article 88 of the most popular application (propaganda against the regime) to purpose of creating a legal basis in the arrest and illegal detention Democratic House fight and dissenting voices in the country.
Press release of the U.S. Embassy in Hanoi today highlighted the official views and expressed their concern about the progress of the above heartbreaking and powerful calls communist government of Vietnam to release immediately and unconditionally to the three bloggers include: Nguyen Van Hai (blogger Dieu Cay), Phan Thanh Hai (blogger Anh Ba Saigon) and blogger Ta Phong Tan, who were arrested on charges of alleged "propaganda against the regime" under Article 88 of the Criminal Code and is expected to be brought to trial on 07th, August by VN Communist government. Press release of the U.S. Embassy in Hanoi also cited statements by U.S. President Obama on the Press Freedom Day of world this year and urged the government of Vietnam "Please take steps necessary to create a society where independent journalists can work freely and without fear. "
Not only U.S. but many other countries around the world also expressed their deep concern over such human rights violations of Vietnam's communist government is escalating at an alarming rate. Especially harsh criticism from the non-governmental organization (NGO) and the International Human Rights Organization when freedom of speech of people nowaday are more threatened shrinking and prohibit by harassment and wrongful arrest of Vietnam's communist government. International also expressed concern that self-immolation of Ms. Dang Thi Kim Lieng will become bad precedent to people if the Hanoi government not stop the harassment and persecution of his wrongdoing to prevent right Freedom of expression, the legal legitimacy right of the people which has been regulated and protected by law, the National Constitution, as well as public international law.
News
Friday, 03/08/2012
News / Vietnam
International expressed concern about the mother's self-immolation blogger Ta Phong Tan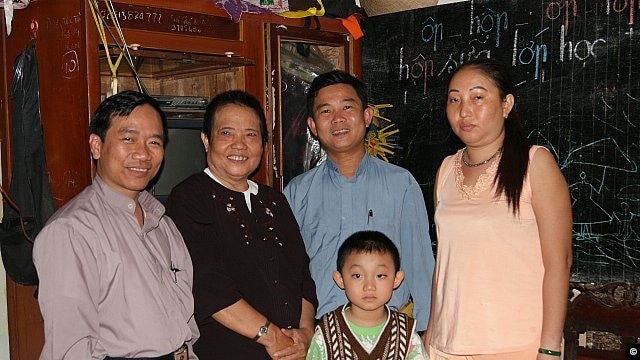 Ms. Dang Thi Kim Lieng (second from left) has died after self-immolation before Bac Lieu province (Photo: Danlambao)
Trà Mi-VOA
08/01/2012
The event of blogger Ta Phong Tan's mother struck self-immolation makes international attention once again on the situation of human rights in Vietnam. United States and the protection of human rights organizations worldwide to simultaneously expressed concern about the incident, Hanoi Call to respect human rights and immediately release the detained blogger.
Contact
.
Mom blogger Ta Phong Tan died after self-immolation
.

Reporters Without Borders: VN behaving like hooligans to bloggers
.
Add three MPs supported calls to dismiss the U.S Ambassador in Việt Nam
.
August 7
United States on 1/8 voiced deep concern about the self-immolation of blogger Ta Phong Tan's mother is Ms. Dang Thi Kim Lieng and called on Vietnam to release blogger three about to be brought to trial include Ta Phong Qin, Dieu Cay, and Anh Ba Saigon.
The press release posted on the website of the
U.S. embassy
in Vietnam said the United States is deeply concerned and grief at the Dang Thi Kim Lieng himself on fire Tuesday 30/7 but for the service or related to detention bloggers keep her daughter from Ta Phong Tan was arrested in September last year and is expected to be brought to trial on 7/8 along with two co-founders of "The Journalist Club Freedom" is Nguyen Van Hai (ie blogger Dieu Cay) and Phan Thanh Hai (ie blogger Anh Ba Saigon).
Three bloggers was accused of "propaganda against the state 'under Article 88 of the Criminal Code by Hanoi government that follow the U.S. embassy to as' the law applicable to the terms with vague words to stifle the competition Comment freely and openly '.
Statements
of the U.S. Embassy in Hanoi clearly U.S. urges Vietnam to release blogger three immediately. Quoted by President Obama Press Freedom Day World this year, the U.S. embassy urged Vietnam 'Please take steps necessary to create a society where independent journalists can operate freely and without fear '.
A day earlier, on 31/7, three human rights protection organizations including the International Federation of Human Rights Watch Organization Protect those who fight for human rights, and the Committee to Protect Human Rights Vietnam is headquartered in France with general mailing ambassador to 33 countries around the world have office in Vietnam, Hanoi demands of freed unconditionally just told three bloggers and representatives from the Embassy attended the hearing on 7/8.
Reminder to the human rights violations by the government of Vietnam for the citizens and to assert that this court only to punish those who criticized the state through the peaceful conduct of free speech.
Some human rights organizations to protect other international series also voiced concerns before the hearing of three members of the Club freelance journalist and mother of the self-immolation blogger Ta Phong Tan.
Statements by
Reporters Without Borders
(RSF) highlighted her self-immolation Lieng was a tragedy that should not have happened if the Hanoi government is not too obstinate. RSF said that urgent international community to Vietnam strongly reminded of the obligation to protect human rights and free speech.
Mr. Phil Robertson, deputy director for Asia of the organization of international human rights monitor Human Rights Watch said she Lieng self-immolation incident before the hearing his daughter was a sensational case. Still according to Human Rights Watch, the fact that Vietnam is conducting a campaign of systematic harassment and this blogger has a huge impact with the victim's family.
In a statement of condolence to the family blogger Ta Phong Tan on 31/7, Congresswoman Loretta Sanchez, a strong voice criticizing human rights in Vietnam in the U.S. House, said that Ms. Liêng's sacrifice remind values ​​and sacrifice that the human rights activists to go through to fight for freedom and justice.
Relatives said she Lieng her funeral will be held on 2/8. Families and those who visit the funeral for more police monitoring during the funeral took place and a visiting delegation had been harassed, interfered.
Ms. Lu Thi Thu Trang, one of the first visit Lieng her funeral, for VOA Vietnamese, said:
"The former political prisoners on their way to visit the funeral car was blocked in Tien Giang, was very much difficult. The petitioners in the neighboring provinces condolences to the family also have been harassed, causing many difficulties. This morning (eighth) at the funeral took place a form of expression did not know how. They actually sent thugs or gangsters disguised by police to stop holding machetes stood at the output of the Ta Phong Tan house, causing people to visit a funeral extreme fear. Outside the police and security thick front entrance which has blatantly thugs holding machetes to stand guard the gates. "
Hearing Ms. Liêng's daughter is blogger Ta Phong Tan, and two blogger Dieu Cay, Anh Ba Saigon and originally expected in mid May this year, but later canceled, and upcoming scheduled hearing date of 7 / 8.
However, to date 1/8 blogger Ta Phong Tan family had not received official notice of the government. Ms. Ta khoi Phung, sister blogger Ta Phong Tan, said to Vietnamese language for the VOA :
"Do not have heard, no one sent invitations to attend the hearing of my sister."
Blogger Dieu Cay, founder of Club freelance journalist, who is known through the activities and anti-Chinese articles invasive Spratly-Paracel.
Blogger Ta Phong Tan, a former police, is the author of articles denouncing corruption and injustice in the legal system in Vietnam.
Anh Ba Saigon Blogger, had posted the blog commentary and criticism for setting aside Article 88 of the Criminal Code, saying that Vietnam violated free speech rights of citizens are Constitutional provisions.
Funeral Ms. Dang Thi Kim Lieng: The photos know to speak
Posted by pleikly at 2:37 the morning of 3/08/12
VRNs
(03/08/2012) - Bac Lieu - Since after giving the body of Ms. Dang Thi Kim Lieng home (up to 30.7.2012), many delegations from around come to make condolence. Particularly in Bac Lieu, only the relatives, neighbors, and the monk who chaired the Hue Quang Buddhist temple to venerate and chanting.
A very large number, we can say nearly 200 people visited regularly, kneeling near the hospitality sector is security officer Bac Lieu province, and the Sai Gon. These people are not present to make condolence, supporting bereaved, that causes fear for family and guests to venerate her soul Lieng.
The Vien Hoa Dao delegation, the VN Buddhist Church Unity, by Thich Khong Tanh, General Director of Charity Services, led the two of Venerable Thich Nhat Thanh and Thich Dong Minh who arrival to Lieu at 3 am on 02.08.2012 to attend and direct prayers for Mrs. Dang Thi Kim Lieng.
Saigon Union of the group VRNs, No-U SG, Theory and Research XHCG, led by Father Thanh who's being thurify, to venerate Ms. Lieng soul
Thich Khong Tanh and Anthony Le Ngoc Thanh priest is praying for Ms. Lieng soul by own way to their own religion, right next to each other.
Group Hue Quang Buddhist temple, where Ms. Lieng regularly chanting when she alive.
The chaired Hue Quang temple is all the time before the recitation of the...
Security officer shooting, standing in front of the coffin (to less than 3 m) is a hat on
Portrait of a number of secret security agents around the bereaved few days. The woman who wear yellow coat was pretending the relative to treat guests, she was discovering and chasing out by Ms. Ta Khoi Phung.
In the home, Mr. Tuan, her second son cried before his mother's death unjustly. In outside, the police glacially standing to track
The grave of Mrs. Dang Thi Kim Lieng be set up in Trieu Quang Sung Thien Duong where just give casket , just to give land burial. Along the way, surprised locals do not know why this funeral too many motorcycles. In fact, some mourners motorcycle actually less than 30 units (family and guests to remote groups are private or taxi ride). The remaining approximately 70 units mounted police carrying machine is sometimes run by hearse and close the passenger car.
The Monks and everyone at our cemeteries are united prayers for Mrs. Dang Thi Kim Lieng
Group Saigon take photo at The Garage Phuong Trang in Bac Lieu before return to Saigon
>>>
Click here to view page in Vietnamese
>>>
Click here to view billingual page